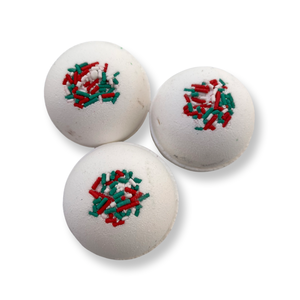 Midnight Oil Soap & Apothecary
**NEW** CHRISTMAS HEARTH~ Bath Bomb
Regular price
$ 5.95
$ 0.00
CHRISTMAS HEARTH- Bath Bomb
A classic holiday fragrance that tells the story of a cozy holiday night spent sipping wine in front of the fireplace. Christmas Hearth combines orange spice notes from the kitchen spices of cinnamon, nutmeg and allspice. 
Ingredients

: Sodium Bicarbonate (baking soda), Citric Acid, Coconut Oil, Essential Oil,  spring water, lavender bud.
*Simply drop the bath bomb into your bath water and watch it fizz and release a wonderful scent!
**Please use caution when getting out of bath tub after using this product; moisturizing oils released from the bath bomb may make the bath tub slippery**
---
More from this collection