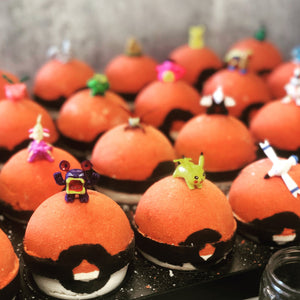 Midnight Oil Soap & Apothecary
POKEYMAN BALL ~ TOY (pokeman) INSIDE (Bath Bomb)
Regular price
$ 12.00
$ 0.00
Comes in an assortment of scents
This bomb is twice the size of a normal bomb and has a toy Pokeyman character inside.
*We recommend that children rinse off after bathing with this bomb due to it being so large and give caution for choking hazard with the  size of the toy.

Ingredients: Sodium Bicarbonate (baking soda), Citric Acid, Coconut Oil, Essential & Fragrance Oil,  spring water, skin safe Colorant.

*Simply drop the bath bomb into your bath water and watch it fizz and release a wonderful scent!
**Please use caution when getting out of bath tub after using this product; moisturizing oils released from the bath bomb may make the bath tub slippery**
---
More from this collection