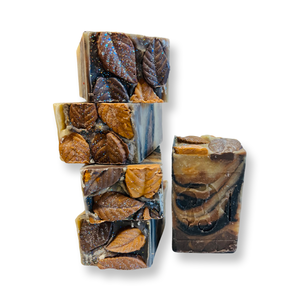 Midnight Oil Soap & Apothecaary
**NEW**AUTUMN LEAVES~Goat Milk Soap
Regular price
$ 6.95
$ 0.00
AUTUMN LEAVES-Goat Milk Soap

Step into fall leaves just after a rain, and enjoy the fresh air combined with a blend of clean smelling herbs and spices  This vibrant scent is invigorating and tantalizing!  You will truly enjoy this limited edition soap.  
***infused with natural essential oils, including cinnamon leaf, cinnamon bark, patchouli, cedarwood, vetiver, and sandalwood.
5 oz bar



Every bar of Midnight Oil Soap is made with Goat Milk!   These bars are handcrafted in small batches, so there may be a slight variation in size and color. Goats milk soap is great for all skin types and you will LOVE they way your skin feels when you use Midnight Oil Soaps!
Ingredients: Saponified Olive Oil, Organic Coconut Oil, Shea Butter, Palm Kernel oil (sustainably grown), Goat Milk, Fragrance (Phthalate Free), Mica, Skin Safe Colorants .
---
More from this collection