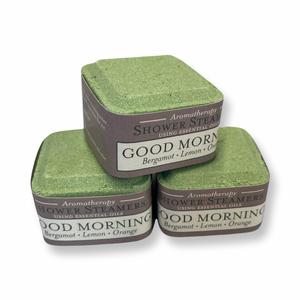 Midnight Oil Soap & Apothecary
GOOD MORNING ~Shower Steamer
Regular price
$ 5.00
$ 0.00
GOOD MORNING-

Shower Steamer
Indulge in the restorative aromas of this steamer.  Take time to breathe, center and feel your whole life fall into place.  When you feel the peace wash over you take a few deep breathes and open your heart chakra and visualize how you want your day, evening or week to happen.



*

Orange essential oil: is bright and happy giving you an uplifting feeling helping when you feel overwhelmed and depressed.



*Bergamot essential oil helps to dissipates any anxiety and clears away stress.

*Lemon essential oil helps refresh, energize and uplift your spirit

$4.00 represents one shower steamer
HOW TO USE

: You should be able to get 1 showers out of each steamer.
Set steamer in shallow dish

activate

with water and set the dish on the shower's floor.  When finished showering empty out the water in the dish and use again. You can get three showers out of one steamer. The

more

water you add to the shower steamer the

faster

it will dissolve and more of the scent will be released.
Ingredients: Baking Soda, Citric Acid, Essential Oil, Colorant
---
More from this collection