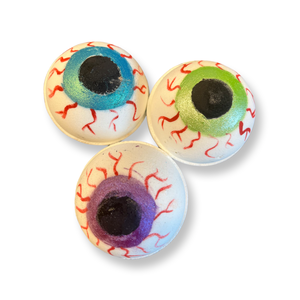 Midnight Oil Soap & Apothecary
**NEW** EYEBALL-Bubbly Bath Bombs
Regular price
$ 5.95
$ 0.00
EYEBALL BATH BOMB

- this bomb has a colored center bubble.
Add clarity  balance and happiness to your day with this bright, soothing  fall scent. A mix of tomato leaves, cucumber adding some light floral and citrus then masterfully blending some basil and fir, bring this scent into perfect balance.
Contains essential oil of orange, basil,, fir, lemon and bergamot.
EYEBALLS COME IN: Blue, Purple and Green
Ingredients: Sodium Bicarbonate (baking soda), Citric Acid, Coconut Oil, Essential & Fragrance Oil,  spring water, Rose Bud, skin safe Colorant.

*Simply drop the bath bomb into your bath water and watch it fizz and release a wonderful scent and bubbles!
**Please use caution when getting out of bath tub after using this product; moisturizing oils released from the bath bomb may make the bath tub slippery
---
More from this collection