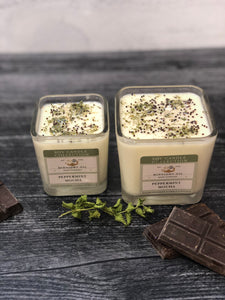 Midnight Oil Soap & Apothecary
**NEW** PEPPERMINT MOCHA~Soy Candle no
Regular price
$ 19.99
$ 0.00
 

PEPPERMINT MOCHA-Soy Candle



This signature scent of chocolate and peppermint into an irresistible treat. Notes of peppermint and a hint of coconut milk blend with rich chocolate and creamy vanilla.
This fragrance oil is infused with natural essential oils, including mentha arvensis.
These candles and melts are made with soy. 
Why use soy candles? 
They burn 95% cleaner then other candles,
they have a long lasting burn time 
they are NON-TOXIC
The scents selection will tantalize your senses and fill your house with deliciousness!
Burning instructions:  Make sure you burn your candle 2-3 hours  the first time you burn this candle, so that the entire top of the candle is melted liquid before you blow it out.  If you do not do this then there is a possibility your candle will be ruined.
---
More from this collection