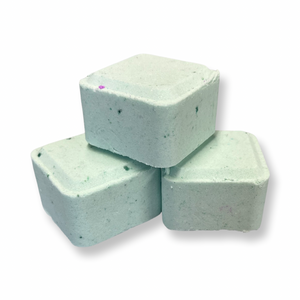 Midnight Oil Soap & Apothecary
BREATHE~ Shower Steamer
Regular price
$ 4.00
$ 0.00
~BREATHE-Shower Steamer
The essential oils of eucalyptus and peppermint in this shower steamer will help soothe your cold and achy body. Eucalyptus and Peppermint acts on receptors in the nasal mucous membranes, which help your body relax and not be so stiff, leading to the clearing of your nasal and sinus congestion. Let the aromatherapy fill your senses and help you begin to breathe and feel better!

$4.00  FOR ONE STEAMER

*BEST SELLER*
HOW TO USE: Set steamer in shallow dish activate with water and set the dish on the shower's floor.  When finished showering empty out the water in the dish and use again. You can get two showers out of one steamer. The more water you add to the shower steamer the faster it will dissolve and more of the scent will be released.
Ingredients: Baking Soda, Citric Acid, Eucalyptus, Peppermint Essential Oil, Colorant
---
More from this collection