• kim hedine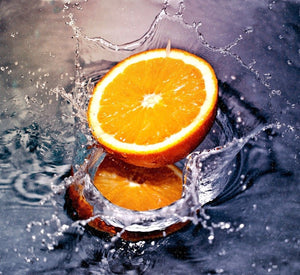 Citrus baths will de-stress you and clear your energetic body. They are very beneficial during the Holiday season.   These months are absolutely the perfect times because though, the Holidays are wonderful, with family, friends, a thousand parties and gift giving....it always a bit stressful and overwhelming as well. You may be thinking.....What is the difference in taking a bathe and a ritual bath?  A bath with intention put into the creation of the it, is ritual in nature and require preparation and intention, making them a lot  more than just clean dirt away.  The intentional ritual bath will feed your...
---
• kim hedine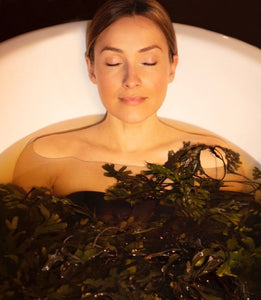 Try the TRANQUILITY Sea Kelp Bath Bomb. Sink deep into a hot bath of tranquility! Kelp contains minerals essential for skin health, it plumps and firms up the skin, improves elasticity and give your body and mind a great reset.  These minerals help your skin stay hydrated and I recommend taking a seaweed baths a two times a month. Always end your bath with a cool shower or by adding cold water to your tub.  This locks in the mineral rich, moisturizing goodness into your skin, by closing your pores. Absolutely one of my favorite soaks is a Sea Kelp...
---
• kim hedine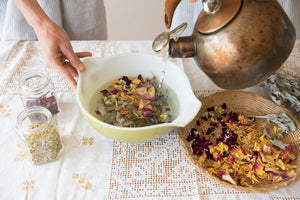 Looking for a way to step up your skin care that will not break the bank? Facial steaming is a DIY skin treatment that cleanses, nourishes, and feels luxurious..Read how to do this and find RECIPES you will love to use over and over again!   What does steaming do for your skin? It's cleansing. Steam opens up your pores and helps loosen any buildup of dirt for a deeper cleanse. Opening up your pores also softens blackheads, making them It promotes circulation. The combination of warm steam and an increase in perspiration dilates your blood vessels and increases circulation....
---
• kim hedine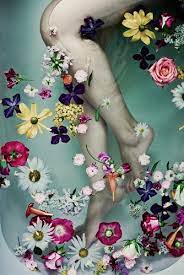 A hot bath regenerates your soul and rekindles your metabolic fires. Flowers are the most passionate expre ssion of nature.  The violet, ya that one in your grass, will bloom in the spring simply forthe joy of blooming, their reproductive blooms happen mid-summer and are under the leaves.  WOW!! LET'S ALL BE VIOLETS! Everyone I know has a pot of flowers on their porch or a few roses in a garden bed.  Plants are generous with their compassion and enjoy helping you remove negative energy and rejuvenate your soul! HOW TO DO IT: use your intuition and if you want...
---
• kim hedine
We here at Midnight Oil Soap  want to share a few tips to keep your skin healthy and beautiful through the winter.                                         1. EXFOLIATE for CLEAR, BRIGHT SKIN WHY?: Exfoliating skin removes dead, and dulling skin debris which prevent congestion and improves skin health. WHAT TO DO: Using Midnight Oil Goat Milk Soap will NOT strip away any of your natural skin oils due to it has a pH very close to your skins pH.  Goat's milk soap is very hydrating and exfoliating in itself.   PRODUCTS TO TRY: Any of our soaps but we recommend ~EXFOLIATOR it's "super power"...