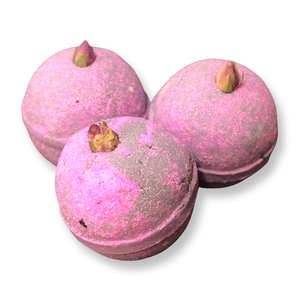 Midnight Oil Soap & Apothecary
Nipples of Venus ~Bath Bomb
Regular price
$ 5.50
$ 0.00
This bath bomb is scented with 3 different antique roses adding a  tart lemon balances this scent to perfection.  Not too strong of a floral scent and not too sweet, just delightful a perfect combination! 
Ingredients: Sodium Bicarbonate (baking soda), Citric Acid, Coconut Oil, Essential & Fragrance Oil,  spring water, Rose Bud, skin safe Colorant.

*Simply drop the bath bomb into your bath water and watch it fizz and release a wonderful scent!
**Please use caution when getting out of bath tub after using this product; moisturizing oils released from the bath bomb may make the bath tub slippery**
---
More from this collection