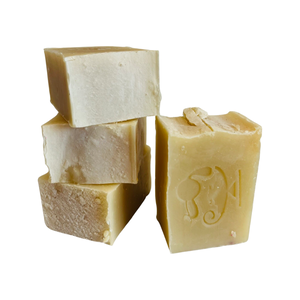 Midnight Oil Soap & Apothecary
DOG POO ~Goat Milk Pet Shampoo
Regular price
$ 8.00
$ 0.00
DOG POO ~Goat Milk Pet Shampoo

This soap is designed for your dog, cat or any pet's sensitive skin and hot spots. Using an herbal combination (German chamomile, comfrey root, chickweed, calendula, Echinacea root, myrrh gum, and slippery elm) and the essential oils will help keep those pesky fleas at bay.
**THIS SOAP CAN BE USED ON ANY PET.
HOW TO USE:

  Wet fur. Starting behind the ears, rub the bar in your pet's fur until you have a nice lather.  Rinse and repeat if necessary. Your pet will love it!!
Note: All cold process shampoo bars will sting the eyes if not handled carefully, be careful while shampooing around the face. Use extreme caution when shampooing all animals but especially guinea pigs. DO NOT get in the eyes of guinea pigs as they do not blink like other animals do and it is easy to hurt their eyes using ANY soap.
Ingredients: Saponified Olive Oil, Coconut Oil, Palm Kernel Oil (sustainable grown), Castor Oil,Shea Butter, Goat Milk, Infused herbal combination, Lavender, Cittronella, & Lemon essential oil

---
More from this collection