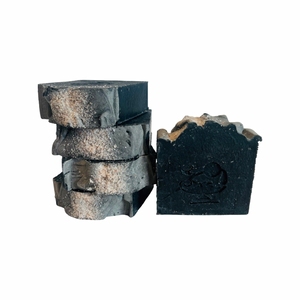 Midnight Oil Soap & Apothecary
DETOX AND PURIFY ~Goat Milk Soap
Regular price
$ 9.50
$ 0.00
DETOX AND PURIFY

-Goat Milk Soap
This soap defeats free radicals that cause fine lines and damage to skin.  Rich in fatty amino acids, vitamins and minerals that will nourish your skin back to balance and health.  Using Activated Charcoal, gives this soap a powerful detoxifying ability that deep cleans your pores, helping eliminate blackheads, blemishes and acne. 
Use as a deodorizing bar, on psoriasis, and eczema problems.  Does not dry skin out, but adds a healing moisture.  Works on all skin types.
5 oz
Every bar of Midnight Oil Soap is made with Goat Milk!   These bars are handcrafted in small batches, so there may be a slight variation in size and color. Goats milk soap is great for all skin types and you will LOVE they way your skin feels when you use Midnight Oil Soap
Ingredients: Saponified Olive Oil, Organic Coconut Oil, Shea Butter, Palm Kernel oil (sustainably grown), propriety blend of infused herbs, ,Goat Milk, activated Charcoal, Sea Salt, Pink Himalayan Salt, Essential Oil Blend.
---
More from this collection