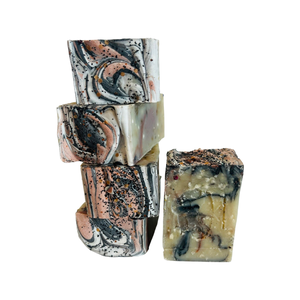 Midnight Oil Soap & Apothecary
BANISHING GHOSTS ~Goat Milk Soap
Regular price
$ 8.00
$ 0.00
BANISHED GHOSTS-Goat Milk Soap
The energy of this soap washes away all those nasty little voices, hurts and thoughts that we beat ourselves up with all the time.  Start with a clean slate and begin to follow your own true journey.

"I let go of my ghosts, the things which haunted me with memories of old.  I let go of the past, that which makes me weak and saps my will or makes my heart bleak.  I banish the dark into the long night.  I let go of the ghosts and embrace the new light"
 5oz Bar
 **Every bar of Midnight Oil Soap is made with Goat Milk!   These bars are handcrafted in small batches, so there may be a slight variation in size and color. Goats milk soap is great for all skin types and you will LOVE they way your skin feels when you use Midnight Oil Soaps!
Ingredients: Saponified Olive Oil, Organic Coconut Oil, Shea Butter, Palm Kernel oil (sustainably grown), Goat Milk, Fragrance (Phthalate Free), Mica, Skin Safe Colorants, Full Moon Energy, Sea Salt

---
More from this collection