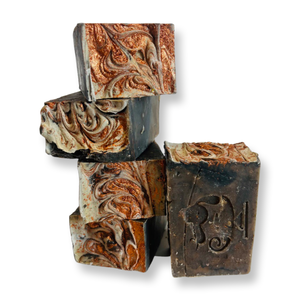 Midnight Oil Soap & Apothecary
DRAGONS BLOOD ~Goat Milk Soap
Regular price
$ 8.00
$ 0.00
DRAGON BLOOD-

Goat Milk Soap



I do so love the idea of this mystical creature and the essential oil of dragon blood, sweet grass, amber, and lavender makes a lovely scent!
This energy soap is designed during the full moon and was created with intent, herbs, moon power and oils that will

wash away NEGATIVE ENERGY

that collects in our auras all day long.  Everyone should do a good clearing every once in a while and especially after an emotionally and physically draining day. 

Using in the shower is best and let all that negative energy go down the drain.
You will feel refreshed, clear and wonderful after using this specially designed soap!
5oz Bar



 Every bar of Midnight Oil Soap is made with Goat Milk!   These bars are handcrafted in small batches, so there may be a slight variation in size and color. Goats milk soap is great for all skin types and you will LOVE they way your skin feels when you use Midnight Oil Soaps!
Ingredients: Saponified Olive Oil, Organic Coconut Oil, Shea Butter, Palm Kernel oil (sustainably grown), Goat Milk, Fragrance (Phthalate Free), Mica, Skin Safe Colorants, herbs

---
More from this collection