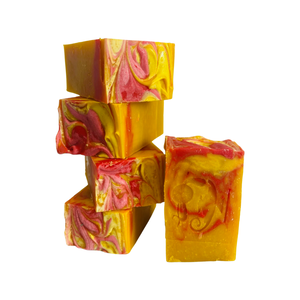 Midnight Oil Soap & Apothecaary
FRUIT SLICES ~ Goat Milk Soap
Regular price
$ 6.95
$ 0.00
FRUIT SLICES-Goat Milk Soap
A delightfully bright bouquet of fruits.  This soap is beautiful handcrafted with swirls of yellow and red. 

Truly wonderful and a very popular scent! 
- It has been my daughters favorite scent since she was 3!
 *BEST SELLER
5 oz Bar

Every bar of Midnight Oil Soap is made with Goat Milk!   These bars are handcrafted in small batches, so there may be a slight variation in size and color. Goats milk soap is great for all skin types and you will LOVE they way your skin feels when you use Midnight Oil Soaps!
Ingredients: Saponified Olive Oil, Organic Coconut Oil, Shea Butter, Palm Kernel oil (sustainably grown), Goat Milk, Fragrance (Phthalate Free), Mica, Skin Safe Colorants .
---
More from this collection