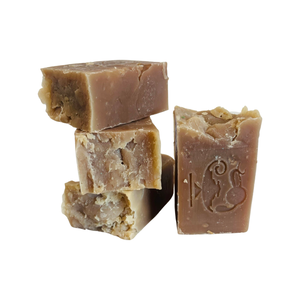 Midnight Oil Soap & Apothecary
HAIR REPAIR~Goat Milk Shampoo
Regular price
$ 10.50
$ 0.00
HAIR REPAIR-Goat Milk Shampoo and Body Soap
A must have for fine, thinning, or damaged hair.  This bar will strengthen your hair.  Helps repair split ends while stimulating new growth.  Great for oily hair. Use it as a body soap as well!



**HOW TO USE

: Wet hair, rub the bar in your hair, until you have a nice lather, rinse and repeat. This bar contains castor oil causing it to dissolve faster.  Store the bar out of moisture, allowing bar to harden between uses.  
Note

: All cold process shampoos bars will sting

the eyes if not handled carefully to prevent eye contact.
**Here is a wonderful alternative for your hair.  It is all natural and bio-degradable.  Great for travel and everyday use.   Do not continue to put poisonous chemicals on your head.  Use these wonderful solid bar shampoos.


Ingredients: Saponified olive oil, caster oil, coconut oil, fresh goat milk, rosemary oil extract, horsetail grass extract and essential oils of rosemary, lavender, patchouli, and eucalyptus
---
More from this collection