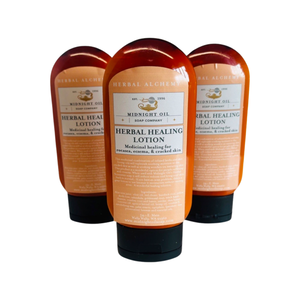 Midnight Oil Soap & Apothecary
HERBAL HEALING LOTION
Regular price
$ 19.99
$ 0.00
NEW SIZE: SMALLER 4 OZ SQUEEZE BOTTLE
HERBAL HEALING LOTION
This product is infused with herbs and skin loving oils replenishes moisture and defeats dry, cracked skin.  It works well with eczema, rashes and skin problems. It does not clog pores so it is perfect for acne, helps with psoriasis as well as rosacea.
One of its claims to fame is how well it works for rosacea
***When using for rosacea, combine the lotion together with Midnight Oil's "Herbal Nonscents" soap.  This will help reduce redness and bring your skin back to normal.
ingredients: Aloe vera juice, proprietary herbal combination infused olive oil, shea butter, coconut oil, apricot kernel oil, hemp oil, Vitamin E, emulsifying wax, palm sterac, optiphen (paraben-free perervative) local beeswax, lavender essential oil.
Price represents one 4 ounce bottle
---
More from this collection