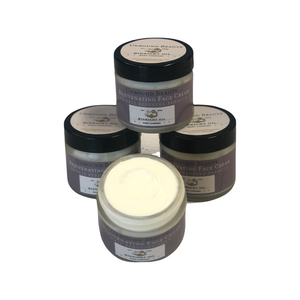 Midnight Oil Soap & Apothecary
REJUVENATING FACE CREAM
Regular price
$ 39.99
$ 0.00
REJUVENATION FACE CREAM- in loving memory of my mom
This luxurious, rich cream will nourish and feed your skin, while helping fight free radicals.  This deep penetrating moisture will help skin remain youthful and minimize age spots.

Use on all types of skin
Comes in a 2 oz jar

.
Ingredients: aloe vera juice, rose hydrosol, herbal combo, organic hemp oil, organic shea butter, organic mango butter, organic rosehip oil, organic raspberry oil, organic cranberry oil, organic borage oil, Vit E, vegetable glycerin, emulsifying wax, steric acid, optiphen (a natural preservative containing NO formaldehyde, NO PARABENS, NO alcohol), essential oils.
---
More from this collection