• Brent Support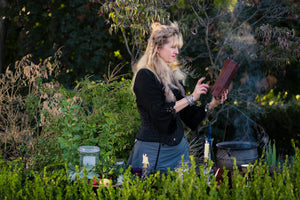 Witches were the first Beer makers read a little known history. Did you know that beer is the oldest fermented beverage on the planet? A little known fact is the original brew-masters were women.  It's thought that the Babylonians and Sumerians started making beer as far back as 10,000 years ago, and even then brewing was in the realm of women. Even those tough guy vikings, only allowed women to make their beer.  As cooks, healers and gathers for their communities, these women had extensive knowledge on plants that were food and had healing properties. So it makes sense they were the...
---
• kim hedine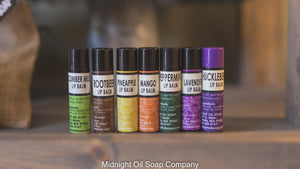 LUSCIOUS LIPS THIS FALL                                              Midnight Oil Soap                                                            When the weather starts to change, so does the skin on our lips.  Extreme weather causes the skin on our lips to dry out and become chapped. Your lips have the same skin that is around your eyes, they have a thinner skin and are more sensitive then anywhere else on your face.  Lips have no oil glands so they need extra moisture.  By applying Midnight Oil Lip Balm 2 -3 times a day your lips will avoid chapping. Our lip Balm is made with all natural ingredients that moisten,...
---
• kim hedine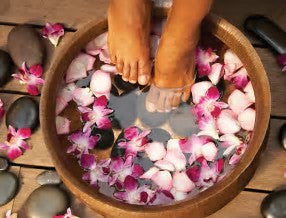 THESE ARE NOT MY MOTHERS FEET!          Summer is here and I always get nostalgic remembering my childhood.  My mom was a barefoot mom and her toes were wrinkly and her heels 5 inches thick (well that might be an exaggeration) of dry skin and deep cracks, that bled and hurt. Even as a small child I thought: "My feet will never look like that!!!" Time clicks by and one day I looked at my feet and said "OMG I HAVE MY MOTHER'S FEET!".  Thank you mom for giving me the gift of feeling the earth on my...
---
• kim hedine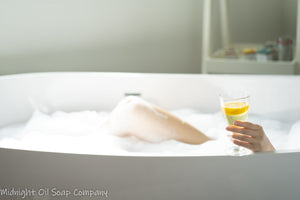 ,                                                                             An average person spends a year and a half of their life in the bathroom. 66% of mothers will hide away in the bathroom to get a few moments of quiet, while 47% of Americans contemplate their future in the bathtub.  It is the one place that is accepted and people will leave you alone for 40 minutes while you have an escape in bubbles. Sacred bathing has an ancient cross-cultural history, people from all around the globe use water to purify, relax and to connect to themselves and the Divine. Japan and Korea have community bathing and use...
---
• Haley Hedine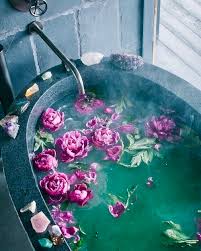 Here are some examples of the stone energy . **Clear Quartz crystal you will receive a very positive energy. These crystals are open for any intent and a perfect crystal to begin with.  **Amethyst is detoxifying and spiritually awakening, **Rose Quartz is excellent for an emotional clean up and self love **Carnelian builds inner strength and grounds your ideas, and really helps you process and move through the woes of the day. **Citrine is a great stone to increase your prosperity and focus on your destiny. **Sunstone is a stone I love to work with to bring light and happiness...